Antiference HDMI0102SCAT – 1 X 2 HDMI splitter
Antiference
Antiference HDMI0102SCAT – 1 X 2 HDMI splitter
Antiference
Antiference HDMI0102SCAT – 1 X 2 HDMI splitter
HDMI0102SCAT – 1 X 2 HDMI splitter over single CAT 6, with HDMI Loop & IR Control

HDMI splitters over CAT6 to 2, 4 or 8 locations/TV screens with IR control.
Ideal for distribution of a single HDMI source to multiple screens over CAT6 cable with resolutions supported up to 2160p (V3 models only).
Supplied as a kit with 2, 4 or 8 PoE receivers and all the IR accessories.
V1 models can send 1080p up to 40m over a single CAT6 and the V3 models can send up to 4K up to 70m over a single CAT6.
EDID management system built in and HDMI loop out for a local TV set.
V3 models also include a 'game-changing' auto-scaling function enabling a combination of 1080p and 4K displays to be connected to a 4K HDMI source.

Share the love with your friend
Complete the form below and we'll email your friend about this product
You'll earn 0 reward points with this purchase.
Be one of the first to know!
We're sorry we're out of stock but we can let you know as soon as it's available if you enter your email address below.
Antiference HDMI0102SCAT is a 1x2 HDMI splitter designed to take a single HDMI input source and split it into two separate HDMI output signals. This type of device is commonly used in home theater setups, presentations, and other scenarios where you need to display the same content on multiple HDMI displays simultaneously.
Here's a breakdown of its key features and functionality:
Input: The splitter has one HDMI input port where you connect your source device, such as a DVD player, gaming console, Blu-ray player, or a computer.
Outputs: It provides two HDMI output ports where you can connect two separate HDMI displays, such as TVs, monitors, projectors, or other HDMI-compatible devices.
Signal Splitting: The device takes the HDMI signal from the input source and duplicates it, sending identical video and audio signals to both connected output displays. This is useful for scenarios where you want to display the same content on multiple screens.
Resolution and Compatibility: The splitter is likely designed to support various HDMI signal resolutions, including standard HD (1080p), Ultra HD (4K), and possibly others depending on its specifications. It's important to check the device's specifications to ensure it's compatible with the specific resolutions you need.
EDID Management: Some HDMI splitters also include EDID (Extended Display Identification Data) management. EDID is a communication standard between a display and a source device that helps ensure the source device sends the correct video and audio formats that the display supports. Advanced splitters may allow you to manage or manipulate EDID settings to ensure optimal compatibility.
Power Source: HDMI splitters typically require a power source to operate. This power can be supplied through an included power adapter or through the HDMI cables if the source device provides sufficient power. Be sure to check how the Antiference HDMI0102SCAT is powered.
Build Quality: The build quality and durability of the device can impact its performance and longevity. It's important to choose a reliable brand and model to ensure consistent signal splitting and avoid potential issues.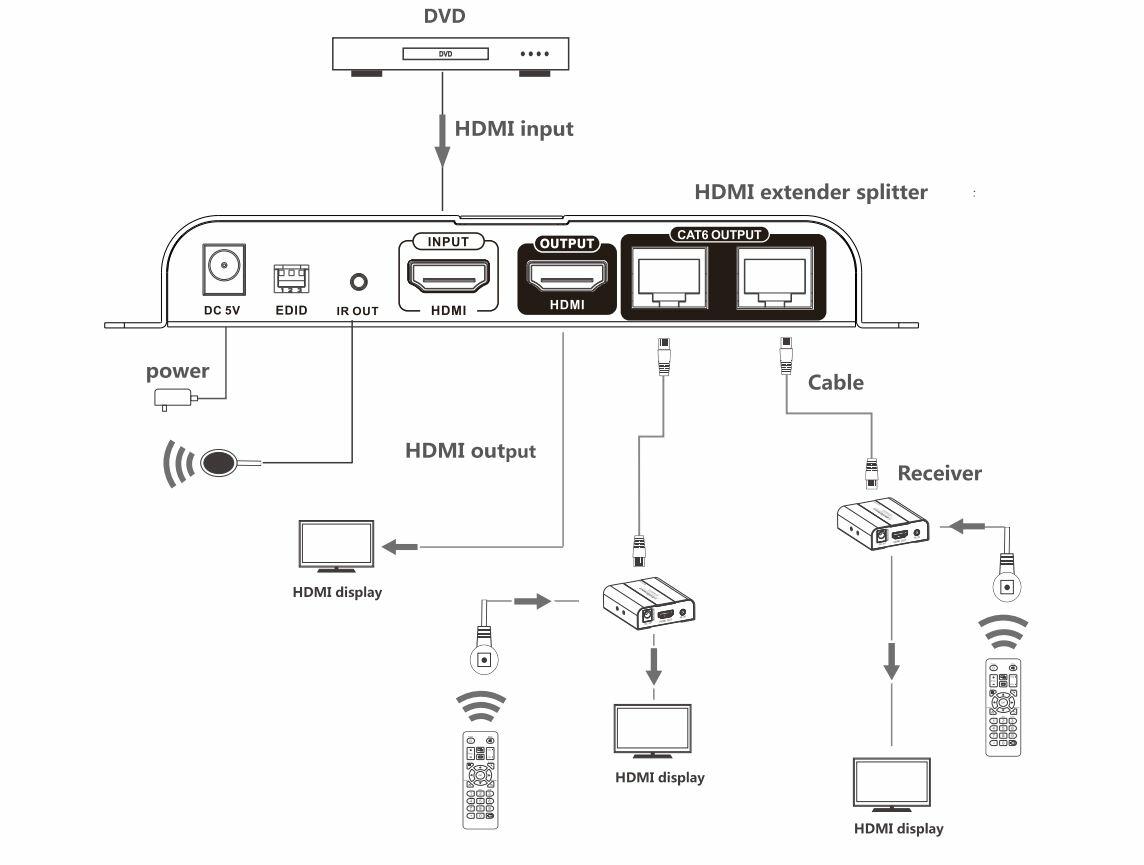 Set Up