Triax TMB UK 2500 Terrestrial Channel Processor
Triax
Triax TMB UK 2500 Terrestrial Channel Processor
Triax
Triax TMB UK 2500 Terrestrial Channel Processor
Triax 360238 The state of the art Programmable Multiband Amplifiers
Unleash the best experience with TMB 2500. 
The programmable Terrestrial Channel Processor is able to receive TV signals from multiple terrestrial antennas.
It combines filtering, converting, level equalization and amplifying of broadcast channels - all this within a very compact unit in order to boost the sum signal into the coaxial TV distribution network in large multi-dwellings or hospitality premises.
5 antenna inputs: FM / 4xVHF/UHF
Very high max output level for big distribution networks
Flex matrix with 32 filters per 1…6 MUX enables individual channel processing to any output channel
Real-time AGC separately on all multiplexes
50 dB suppression of adjacent channels
Automatic switch between LTE 700-5G and 800-4G rejection
Slope to compensate frequency-dependent tilt of the coax cable network
Setup locking with security code
Switchable remote feeding for pre-amplifiers 0/12/24 VDC
SD card slot for saving and reloading individual
Desktop PSU with UK mains plug
Allow 2/3 day deliver on this item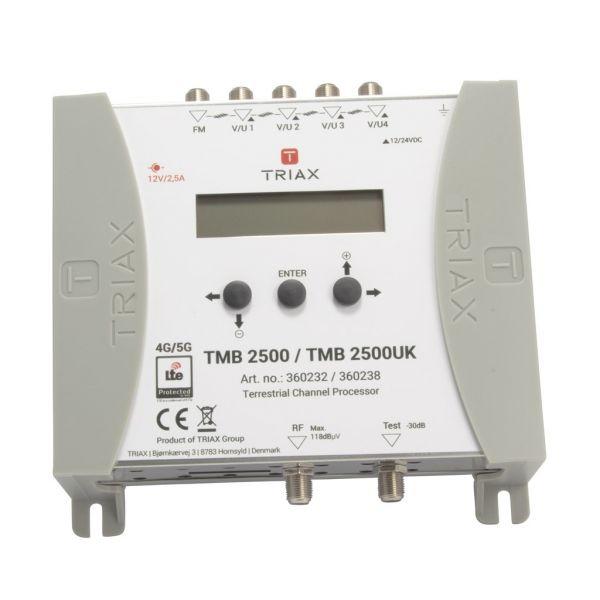 Share the love with your friend
Complete the form below and we'll email your friend about this product
You'll earn 0 reward points with this purchase.
Be one of the first to know!
We're sorry we're out of stock but we can let you know as soon as it's available if you enter your email address below.
Triax TMB UK 2500 Terrestrial Channel Processor is a device used in the context of television signal processing and distribution. Specifically, it is designed to process and manage terrestrial television signals for various applications. Here are some common use cases for the Triax TMB UK 2500:
Signal Distribution: The Triax TMB UK 2500 can be used to distribute terrestrial TV signals to multiple televisions within a building or facility. This is useful in environments like hotels, apartment complexes, hospitals, and large residential buildings where you want to provide access to terrestrial TV channels to multiple rooms.
Signal Management: The device can help manage and organize the available TV channels. It can allow you to customize the channel lineup and block certain channels if needed.
Commercial Installations: In commercial settings such as bars, restaurants, waiting rooms, and fitness centers, the Triax TMB UK 2500 can help provide entertainment to customers by distributing TV channels on various screens.
Integration with MATV/SMATV Systems: The Triax TMB UK 2500 can be integrated into Master Antenna Television (MATV) or Satellite Master Antenna Television (SMATV) systems to incorporate terrestrial TV channels into larger distribution networks.
Customization and Configuration: The device might offer options for configuration and customization, allowing you to set up the system to match the requirements of the specific installation.
Compatibility and Conversion: In some cases, the device might support the conversion of signals to different formats or standards, ensuring compatibility with various types of TVs and devices.
Signal Amplification: The device might include amplification capabilities to ensure that the TV signals remain strong and clear even when distributed across a larger area.
ORDER INFORMATION
CHARACTERISTICS
| | |
| --- | --- |
| MER | 35 dB |
| Input Level - FM | 37...77 dBµV |
| Input Level - VHF | 40...109 dBµV |
| Input Level - UHF | 40...109 dBµV |
| Output level FM | 113 dBµV |
| Output level @ 60dB IMR3 - UHF | 120 dBµV |
| Output level @ 60dB IMR3 - VHF | 120 dBµV |
| Output Level VHF/UHF 1MUX | 118 dBµV |
| Output Level VHF/UHF 6MUX | 114 dBµV |
| Selectivity | 50 dB/1MHz |
| Test Point | - 30 dB |
ELECTRICAL
CONNECTORS
| | |
| --- | --- |
| Number of inputs | 1xFM 4xVHF(DAB)/UHF |
| Number of outputs | 1x FM/DAB/VHF/UHF + 1x Test port |
FREQUENCY
| | |
| --- | --- |
| Frequency Range FM | 88...108 MHz |
| Frequency Range DAB | 174...240 MHz |
| Frequency range VHF | 174...240 MHz |
| Frequency range UHF | 470...862 MHz |
| Number of channels | > 50 by 32 filters |
GAIN
| | |
| --- | --- |
| Gain FM | 35 dB |
| Gain - VHF | 75 dB |
| Gain - UHF | 75 dB |
| Slope | 15 dB |
LOSS
| | |
| --- | --- |
| Attenuator FM | 0...20 dB |
| Attenuator Sum Output | 0...20 dB |
OPERATIONAL
| | |
| --- | --- |
| AC Supply voltage | 100...240 VAC |
| Power Consumption (typ.) | 15 W |
| Remote Voltage Preamp | 12/24 VDC |
| Temperature - operating | -5...50 °C |
MECHANICAL
| | |
| --- | --- |
| Dimensions product (H x D x W) | 165 x58 x165 mm |
| Packing QTY | 1 |
| Packaging Height | 0.230 m |
| Packaging Width | 0.270 m |
| Packaging Depth | 0.075 m |
| Packaging Volume | 0.005 m3 |
| Net Weight | 0.815 kg |
| Tara Weight | 0.155 kg |
| Total Weight | 0.970 kg |

Spec Sheet