CK Tools Automatic Wire Stripper Pro (T3943)
CK Tools
CK Tools Automatic Wire Stripper Pro (T3943)
CK Tools
CK Tools Automatic Wire Stripper Pro (T3943)
Replaceable stainless steel cutting blade - for long life. 
Automatic single action stripping of wires without adjustment - for copper/aluminium wire 0.05 - 8.5mm. 
Unique two component contoured handle for comfort and secure grip. 
Micro adjustment knob for precise, repetitive stripping of copper, aluminium wire, solid or stranded.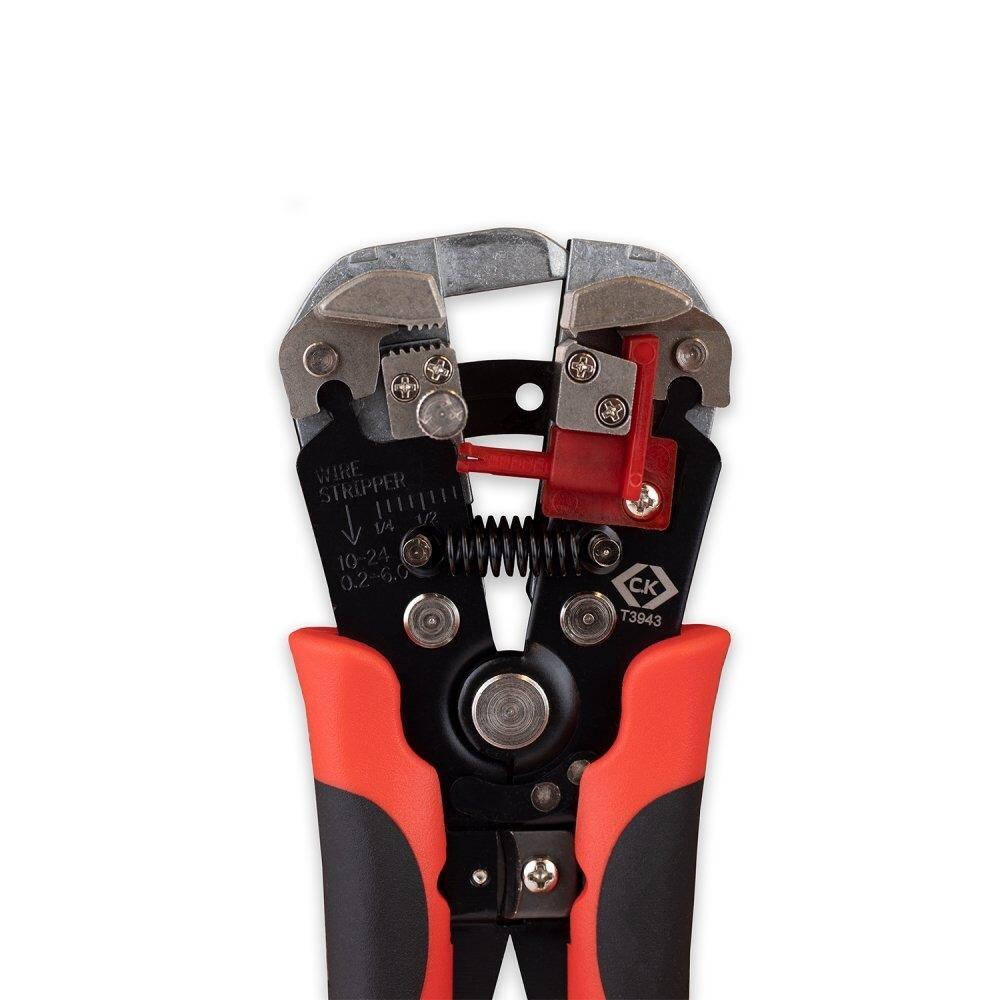 Share the love with your friend
Complete the form below and we'll email your friend about this product
You'll earn 0 reward points with this purchase.
Be one of the first to know!
We're sorry we're out of stock but we can let you know as soon as it's available if you enter your email address below.
CK Tools Automatic Wire Stripper Pro is a specialized tool designed for quickly and efficiently stripping the insulation from electrical wires. Here are some details about this wire stripper:
Automatic Operation: The wire stripper is equipped with an automatic mechanism that allows for quick and effortless stripping of wire insulation. This feature eliminates the need for manual adjustment or multiple tools, making the stripping process more efficient.
Adjustable Cutting Depth: The stripper features an adjustable cutting depth, allowing you to set the desired length of insulation to be removed. This feature ensures precise and consistent stripping for different wire gauges.
Wire Gauge Compatibility: The Automatic Wire Stripper Pro is designed to work with a wide range of wire gauges. It can handle various sizes, typically ranging from 0.2mm² (24 AWG) to 6mm² (10 AWG), making it suitable for a variety of electrical applications.
Insulation Types: The wire stripper is suitable for stripping a variety of insulation types commonly found on electrical wires, including PVC (Polyvinyl Chloride) and similar materials. It effectively removes the insulation without damaging the wire strands.
Ergonomic Design: The tool is designed with user comfort in mind. It features ergonomic handles that provide a comfortable grip, reducing hand fatigue during extended use. The lightweight design further enhances ease of use.
Durable Construction: CK Tools is known for manufacturing high-quality tools, and the Automatic Wire Stripper Pro is no exception. It is built to withstand frequent use and is constructed from durable materials that ensure long-lasting performance.
Safety Features: The wire stripper is designed with safety features to protect the user and the wires being stripped. These features include a built-in wire cutter and insulation retaining jaws that prevent the stripped wire from slipping out.
Features & Benefits Automatic wire size adjustment for fast stripping of outer and inner insulation for both flat and round cables
~Comfort two component grips designed for fatigue free, repetitive wire stripping 
Replaceable stainless steel cutting blade ~ Micro adjustment - extends stripping capacity to 0.05 - 8mm² ~ Hardened steel blades for outstanding long term performance ~ Capacities: Stripping: 0.2 - 6.0 mm² copper or aluminium wire, stranded or solid Cutting: 0.05 - 8.5mm²
Warranty C.K products are guaranteed for 1 year against imperfect materials or workmanship. 
Damage caused through normal wear and tear or resulting from inappropriate use, is not covered.