CK Tools
CK Tools Multi-Saws
Multi-purpose saw cuts meta
l
wood, plastic and plasterboard.
Quick release mechanism for rapid blade change.
Universal fitting - Compatible with all standard hacksaw & reciprocating blades.
Durable, ergonomic grip for comfort, control and confidence when cutting.
SKU:- T0820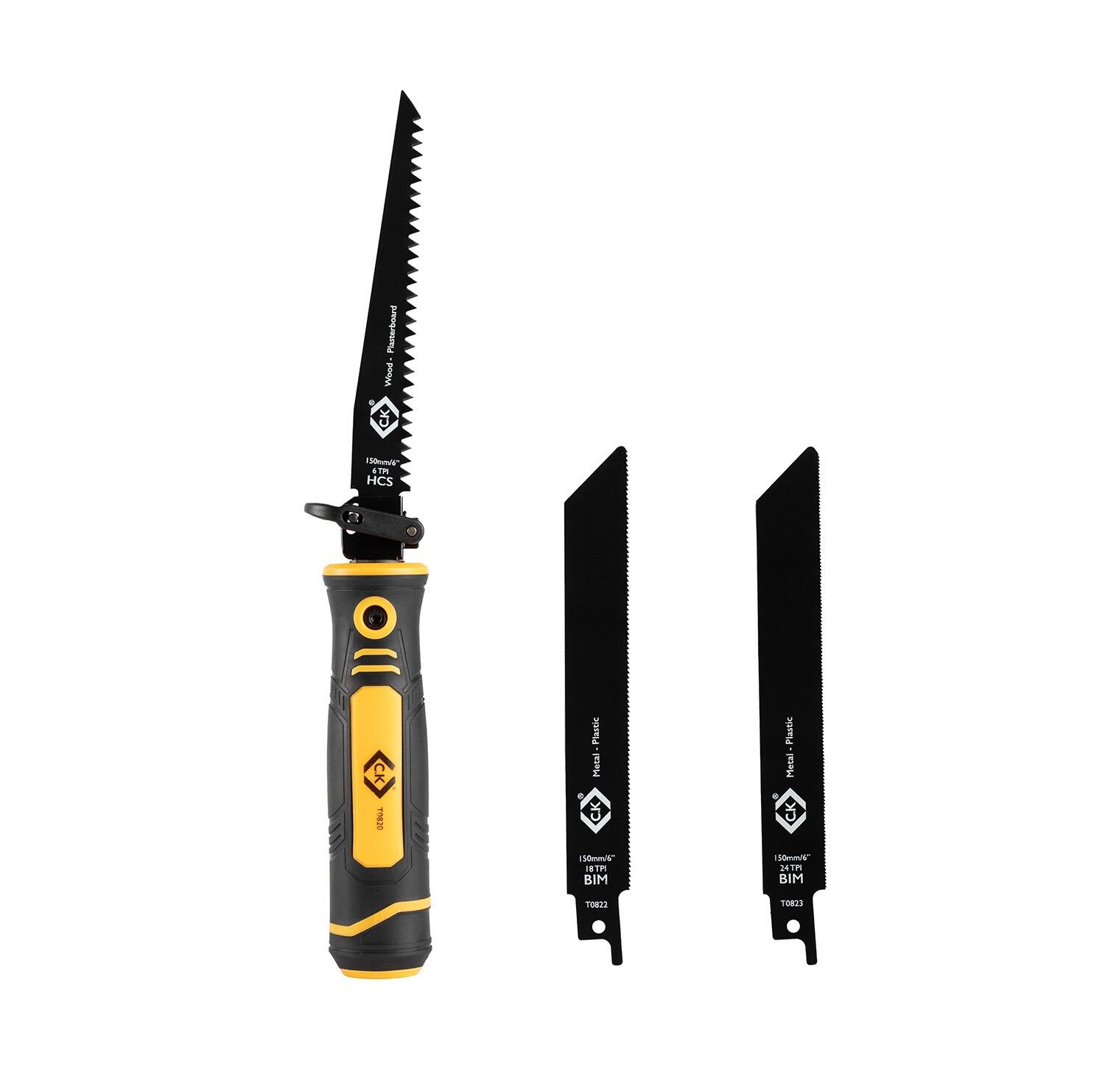 Share the love with your friend
Complete the form below and we'll email your friend about this product
You'll earn 0 reward points with this purchase.
Be one of the first to know!
We're sorry we're out of stock but we can let you know as soon as it's available if you enter your email address below.
 Multi-saws come with a variety of attachments and blades that can be quickly and easily swapped out to perform different tasks. These attachments can include cutting blades, sanding pads, scraping blades, grout removers, and more.
Precision Cutting: Multi-saws are particularly handy for making precise cuts in tight or hard-to-reach spaces, which can be challenging with traditional saws. They are commonly used for tasks like cutting wood, plastic, metal, drywall, and more.
Sanding: With the appropriate sanding pad or attachment, multi-saws can be used for sanding and shaping surfaces. They are great for smoothing rough edges, removing paint or varnish, and preparing surfaces for painting or finishing.
Scraping: The scraping attachments on multi-saws are effective for removing old caulk, adhesive, or paint. They can be used for renovation and remodelling projects where old materials need to be stripped away.
Versatility: Multi-saws are commonly used by DIY enthusiasts, woodworkers, contractors, and craftsmen for a wide range of tasks, including home improvement, woodworking, plumbing, and more. They are a valuable addition to any toolkit due to their versatility.
Portability: These tools are compact and easy to carry, making them suitable for on-the-go projects or tasks in tight spaces.
Speed and Precision: Multi-saws often have variable speed settings and provide precise control over the cutting or sanding process, which is important for achieving high-quality results.
It's important to choose the right attachments and accessories for your specific needs when using a multi-saw, as they come in various shapes and sizes, each designed for a particular application. Always follow safety guidelines and wear appropriate personal protective equipment when using power tools.